update 25-Aug-2023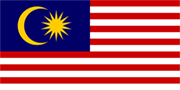 Malaysia visa for Foreign national residing in Thailand
(have work permit or residence permit)
01. Visa form IM 47 (It has 2 pages, please print within 1 page
02. An original passport with valid Thailand re-entry permit (The validity of the passport must not be less than six months from traveling date)
03. An original and a copy of work permit/student pass/residence permit (If working/studying/living in Thailand)
04. Two photographs size 3.5x4.5cm.
05. Return air tickets reservation
07. Sponsor/invitation letter (if any)
08. Employment certificate
09. Introduction letter (explain yourself and the purpose of visit Malaysia)
10. Bank statement for the last 3 months (Oversea bank account is acceptable)
The applicant no need to show in person, we can apply on your behalf.
Visa processing at the embassy is about 3 working days.
Plan Travel Dot Com's service fee 2,500 Baht

Countries that require a visa to enter Malaysia:
Afghanistan (Visa with reference)
Angola
Bangladesh
Bhutan
Burkina Faso
Burundi
Cameroon
Central African Republic
China
Colombia
Congo Democratic Republic
Djibouti
Equatorial Guinea
Eritrea
Ethiopia
Ghana
Guinea-Bissau
India
Israel
Ivory Coast (Cote d'ivoire)
Liberia
Montenegro
Mozambique
Myanmar
Nepal
Niger
Nigeria
Pakistan
Rwanda
Serbia
Sri Lanka
Western Sahara
United Nation (Laissez Passer)
Embassy of Malaysia, Bangkok
Address: Kronos Sathorn Tower, Level 17, 46 North Sathorn Road, Silom, Bang Rak, Bangkok 10500
Tel: 02-340-5720 (General)
Tel: 02-340-5731-2 (for Consular matters during working hours)
Tel: 087-028 4659 (Emergency Only)
Email: [email protected]
Web: www.kln.gov.my
Work day: Monday - Friday, 8.00 am - 4.00 pm